Cornwall
Land of BEAUTY MYTH and LEGEND
When one thinks of Cornwall, memories of childhood summers, glorious beaches, delicious cream teas and traditional Cornish Pasties surely spring to mind. Fortunately all these are still to be found here today alongside some of the world's most historic and spectacular attractions.

Mining originally brought fame and fortune to the Tin Islands – as the British Islands were once called. Cornwall continues to thrive today, famous for the beauty of it's dramatic coastline, it's extraordinary myths and it's romantic legends.

Although it's prosperous mining days are now extinct, great engine houses still dot the rugged moorland landscape. Many mines such as the Geevor and the Poldark are open to visitors allowing us a unique taste of a bygone era. Glorious hours of sunshine can be spent over 300 miles of spectacular coastline, relaxing or exploring the many secluded sandy coves and dunes, once rampant with smugglers and pirates.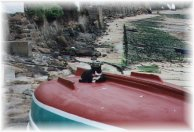 A visit to Cornwall's capital city, Truro, is a must, whilst other days may be enjoyed discovering picturesque fishing harbours, from the busy ports of Falmouth, Newlyn and Penzance, to the tranquil havens of Mousehole and Larmorna Cove.
For the more adventurous there are plenty of moorland and coastal walks, as well as horse riding, indoor and outdoor swimming, surfing (wind, board and body), theatres, restaurants, cycle hire, daily helicopter rides to the Isles of Scilly – in fact something for everyone.

Willow Cottage
West End
Goldsithney
Penzance
Cornwall
TR20 9LH
Tel: (01736) 719062
E-Mail
www.willow-cottage.co.uk
Your Cornish haven
Offers gay and lesbian
bed and breakfast
accommodation
in Cornwall UK